A Lyy concert is the complete entertainment experience. They play beautiful traditional music, poke fun at themselves, and make friends in the process

Tim O'Brien
LYYs performance is characterized by their playful communication, and joyful and humoristic way of looking at music and themselves. LYY is a Swedish folk band formed in 2006, and since then they have graduated from opening for some of Swedens top folk bands to becoming one of them, and heading the bill themselves.
The songs are a blend of traditional and self-penned material stretching from medieval times to modern life. They often choose or write lyrics with a positive message and a bright way of looking at life. While the lyrics tells tales of lives past and present, and the fiddle and nyckelharpa emphasize the dynamics of the storyline, the guitar and percussion build the rhythms and grooves around the song. In that way they all tell the stories together.
The music is a blend of Swedish traditional music and influences from growing up in the modern world. This gives Lyys music a light and fresh feeling. As Folkworlds Tom Keller once described: "This is straight-forward Swedish folk music with some jazzy overtones, lightbodied, leaving the Nordic melancholy behind. The impression is of a mid summers night, full of vitality and joie de vivre." And described in Swedish world Magazine Lira: "The music is plesure-filled, captivating and energetically flowing, sometimes the structure of it is like rock music. But it is also at times naked, meditative and thoughtful with ethereal medieval overtones."
Lyy have performed at all of the major folk music festivals and venues in Sweden, and a large number of festivals and scenes around Europe and Canada such as Scotlands Celtic Connections, Vancouver Folk Festival, Sunfest and Memoire et Racines in Québec, Canada.
Lyy have released three critically acclaimed albums: "Lyy" in 2010, "Två" in 2012, and "Tre" in 2016. Lyy has also been nominated for the Swedish Folk music awards, and best album of the year by Baltic Briefing.
This is straight-forward Swedish folk music with some jazzy overtones, lightbodied, leaving the Nordic melancholy behind. The impression is of a mid summer's night, full of vitality and joie de vivre.

Tom Keller, FolkWorld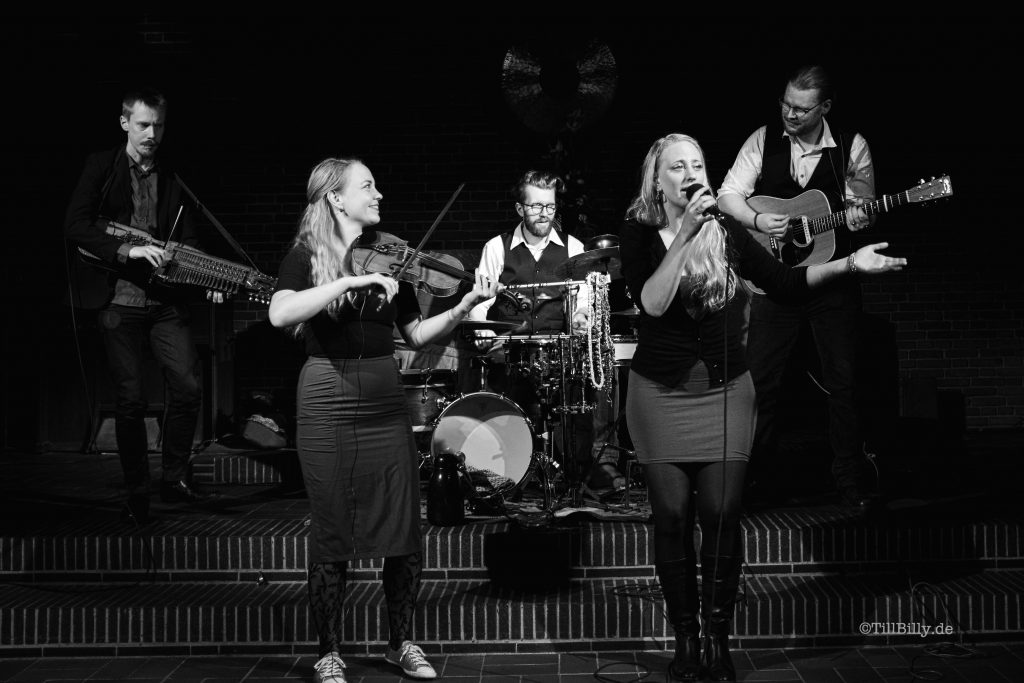 ---
Emma Björling (vocals) has been singing in choirs since the age of six, and studying both jazz and classical music before following her heart back to the traditional music she first heard her grandfather play on the fiddle. She holds university degrees in Swedish traditional music (Royal College of Music in Stockholm), voice pedagogy, music theory and ensemble teaching (Ingesund College of Music). Besides singing with Lyy, Emma teaches at a folk music college and at The Department of Music and Media in Piteå, conducts workshops in traditional Swedish music, writes arrangements for choirs and vocal groups, and is a member of the vocal groups Kongero and Baravox. She has also toured extensively with the well-known Swedish folk band Ranarim.
Anna Lindblads (fiddle) versatile and powerful fiddle playing is steeped in groove, joy and presence. She is just as oldfashioned as she is innovative and with a nod to the tradition she brings her music forward, blending all her diverse musical interests into a very special voice thatís all her own. With a heart beating for Swedish tradition she is not afraid to mix it up with other musical ways of expression. Besides her Swedish fiddling she also plays Quebecois, Irish and Old-time, always with a smile and a contagiously positive attitude and spirit.
Anna Lindblad developed an interest for the Swedish traditions through her parents at an early age. Ever since early childhood, she followed her parents to folk music festivals and dance evenings, mostly around the Swedish West Coast. She started playing the violin when she was nine years old, and that was the start of what would lead to intensive studies of traditional fiddle music. Her studies culminated with a Bachelor's and Master's degree in Swedish traditional music at the Royal College of Music in Stockholm. Since then, Anna has toured extensively through Europe and North America, and has established herself as one of the leading fiddlers within her genre.
Anna is also a member of the folk phenomenon Folk All-in Band, pan-Scandinavian Fru Skagerrak, and her own Anna Lindblad Trio.
David Erikssons (keyed fiddle) parents brought him with them at all their gigs with their dance orchestra from the earliest possible moment. He started singing and playing the piano early on, and discovered the nyckelharpa after listening to Nordman and other Swedish folk rock acts. From that moment he was hooked. He has studied at Eric Sahlström Institute for nyckelharpa, and continued with a Bachelors degree and pedagogy degree at the Royal College of Music in Stockholm. He has received several scholarships and awards, and is one of the top nyckelharpa players in Sweden. He works as a teacher and a freelance musician.
Petrus Johansson (guitar) got his interest in music from his father, who was a professional flute player. Petrus started playing guitar and bass, mostly jazz and rock, when he was quite young. During his University studies he met Emma, and together they started playing Swedish traditional music. This led to a greater interest in the guitar as a folk music instrument, using it to provide bass lines. He is a trained guitar and bass teacher and has worked at Ingesund College of Music and several music schools. He also works as a freelance musician and has played with Mats Berglund, Svante Turesson and others.
Martin Norberg (percussion) grew up in a family where folk and world music played a large role. His father is a famous Balkan clarinet player, and Martin started playing saxophone and percussion at an early age. Martin studied at Ingesund College of Music, he holds university degrees in saxophone, both jazz and folk music, and percussion. Martin works as a teacher at Ingesund College of Music, at a music school and also as a freelance musician. He has played with musicians such as Orientexpressen, Lasse Sörlin, Nils Landgren and Lagayla Frazier.
Great stuff, uplifting music, beautiful voices, brilliant guitar, wow.

Cornelius Bode, Venner Folk Frühling
Lyy reminds you what it is about Swedish folk music that is so appealing. The musicians are young, but have played together since 2006, so their sound is honed and tight. The band reminds me of Ranarim in their prime. They're built around charismatic singer Emma Björlings crystal clear, personable voice. Björling is also responsible for writing or researching much of the material the band performs. The group features both nyckelharpa (by David Eriksson) and violin (by Anna Lindblad), an unusual combination, and guitar (Petrus Johansson) and percussion (Martin Norberg). The opening two tracks, Segertag and O hor I flicktor alla, are as good as anything that has come out of Sweden in years." "If you've grown bored with Celtic music (and haven't we all?), and are looking for something new, exciting and modern, take a chance on this one. You won't be disappointed.

Jim Lee, Driftwood Magazine
Fourteen tracks that make you smile due to the sheer enjoyment and energy in sound this band produces. What comes across is a ëliveí sound that is not over-produced and well reflects personal arrangements of traditional material and self penned melodies and lyrics. Their music has a swinging flow and lift, taking a Swedish sound to new levels. Lyy are a must see band.

Mats Melin, The Living Tradition Magazine